Central Eyes accepts most insurance plans, including Medicaid. Please click here for more information
Eye Examinations
Comprehensive eye examinations and urgent care are conducted on-site by medical optometrists. Please call us at (914) 948-1700 to schedule your appointment, or click here to request an appointment online (we will also accommodate walk-ins wherever possible!)
Prior to your exam, the doctor will take your patient health history. In addition to examining your vision and providing a prescription for eyeglasses and contact lenses, special emphasis is placed on assessing the overall health of the eyes (including whether signs of eye disease are present), and how they work individually and together. Your doctor may also recommend dilation during the exam or at a later date, in order to get a better view of certain parts of the back of the eye. The findings from your comprehensive eye exam can also give your doctor important information about your overall health, particularly diabetes and high blood pressure. A comprehensive eye exam is an important part of your overall health maintenance, and should be scheduled regularly.
A free pair of trial contact lenses is provided with a contact lens fitting, along with contact lens handling and hygiene training for first-time wearers.
Eyewear & Contact Lenses
Central Eyes features frames for men, women and children. From classic metal and acetate, to rimless, wood, titanium, glitz, and hand painted styles… designer brands and independent lines: you name it, we've got it (or can get it for you!)
Visit the Central Eyes showroom and discover Westchester's definitive selection of frames, lenses, contact lenses, sunglasses and vision aids for every lifestyle, task and activity while enjoying warm, personalized service. Click here to view some of the frame brands we carry and click here to view our contact lens brands.
Kids' Eyewear
We offer a wide selection of glasses, sunglasses, and protective sports eyewear for ages 3 months and up, fitted in a relaxed, inviting environment. Our staff understands the importance of making the eyewear fitting process as streamlined, fun, and comfortable as possible for children, and is experienced in catering to those with special needs. If your child plays sports, our expert staff will assist you in choosing prescription eyewear and goggles to protect eyes from impact while correcting and enhancing vision.
Sports Safety
Central Eyes has been regarded as one of the top sports eyewear consultants in Westchester. Safety protective eyewear for sports activities is highly advantageous, reducing/eliminating the risk of eye damage and enhancing performance by providing better vision for players. In fact, proper eye gear is now considered mandatory by many coaches and clubs (and in our opinion, should be by parents as well!). Central Eyes your headquarters for sports / recreational glasses & sunwear, and prescription swim goggles.
Emergency Service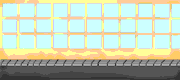 Our expert optical staff can often make repairs to your glasses and sunglasses on-site, and same-day service (often within an hour!) is available, depending on the patient's prescription.